King's Lynn incinerator: Suffolk offers to take Norfolk's waste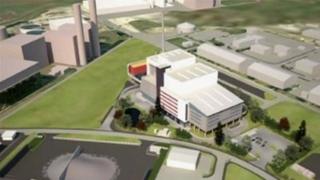 Suffolk is offering Norfolk the chance to send some of its waste to a new incinerator near Ipswich.
Norfolk County Council's officers are recommending the authority cancels its contract for a £500m incinerator at King's Lynn.
Mark Bee, the leader of Suffolk County Council said: "We need to sit down with Norfolk and find a way in which we could help."
Norfolk County Council is yet to decide what alternatives it will pursue.
Norfolk's former Conservative administration backed the plan to build the incinerator at King's Lynn.
£30m compensation
The Labour group in the current Labour/Liberal Democrat coalition said it intended to accept officers' advice that the project should be halted, because it was not going to save as much money as originally thought - partly due to the withdrawal of a £169m waste infrastructure grant by the government.
Terminating its contract with plant developer Cory Wheelabrator will cost about £30m in compensation which will have to come from reserves and savings, according to the council.
The decision is due to be taken on Monday and, if the recommendation is approved, the council will then work out its alternative strategy.
Suffolk County Council has commissioned Sita to build a new £185m incinerator/energy-from-waste plant at Great Blakenham and it is due to open this year.
Mr Bee said it could be an option for Norfolk to send its non-recyclable waste there.
"It has left Norfolk in a bit of a hole and part of the process of collaboration is that you do look to help your neighbour," he said.
"The door is open for that discussion."
George Nobbs, Labour leader of Norfolk County Council, said: "I am very grateful to Mark for his offer of support at this difficult time.
"It is a measure of the distance we have come in our co-operation together."
Norfolk currently recycles 44% of its waste with the rest going to two landfill sites in the county or to waste treatment plants, including one in Kent.