King's Lynn incinerator: £500m scheme set to be scrapped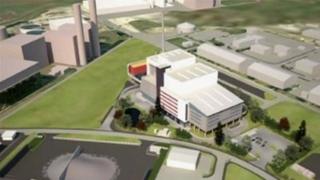 A £500m waste incinerator for Norfolk is set to be scrapped months after it was warned pulling out of the project could "bankrupt" a council.
Norfolk County Council's plan for The Willows incinerator at King's Lynn was first given permission in 2012.
But it faced widespread opposition from MPs, local councils and residents.
The council narrowly voted in October to continue with the project after a report warned of financial penalties that would be triggered by pulling out.
Councillors will be recommended next week to terminate the contract at a cost of £30m.
'I won't gamble'
David Harrison, Liberal Democrat cabinet member for environment at the council, said pulling out of the deal would have "economic repercussions for Norfolk for years to come".
Labour council leader George Nobbs said the scheme no longer represented value for money and that he would not "gamble with Norfolk County Council's financial future".
He said MPs who had opposed the scheme should "put their money where their mouth is" and seek government help for the county.
He said a delay by the local government secretary Eric Pickles in approving the scheme and the withdrawal of PFI credits meant it had become too expensive.
The council has £19m in reserves to cover the cost of withdrawing from the contract.
The remaining £11m will be found through savings.
Last year an independent report estimated that the cost of abandoning could rise to £100m.
'I am flabbergasted'
Price Waterhouse Coopers (PWC) said paying compensation now would cost £28m, but to pull out later would incur further legal and other costs.
Last year the project was put in jeopardy when the government withdrew £169m of funding.
The council's interim head of finance Peter Timmins warned that pulling out of the project would mean compensation payments would have to be made in 35 days.
An extraordinary meeting of the council will be held on 7 April to consider a motion recommending the scheme be dropped.
Henry Bellingham, Conservative MP for North West Norfolk and an opponent of the scheme, welcomed the recommendation.
"I am flabbergasted, but delighted by the news. We have been saying for the last six months there are other ways of dealing with Norfolk's waste. It's a tragedy that every week that has gone by has cost Norfolk money," he said.
'Point-blank refusal'
Mr Bellingham added that Norfolk's MPs would now work with the council to mitigate its financial problems.
Mr Nobbs said: "When council in October voted for continuation of the contract, that was on the basis that it still represented good value for money."
But he said that had relied on Mr Pickles giving his decision on the scheme "on or before 14 January", as he had said he would.
"Mr Pickles' decision - or rather the total lack of it - has been the real game-changer, and has made a nonsense of government rhetoric about speedier decisions on major infrastructure projects," said Mr Nobbs.
"What has been even more damaging has been his subsequent point-blank refusal to give us any idea of when, if ever, he might make a decision.
"The result has been that we are being asked to gamble with Norfolk County Council's financial future, and that I will not do."
The Department for Communities and Local Government said it could not comment as the planning inquiry was a "quasi-judicial process".
Cory Wheelabrator, the consortium behind the incinerator project, said it was extremely disappointed.
A spokesman said: "We believed that the public inquiry would have provided a fair hearing for all parties and that a decision would be based on pure planning grounds.
"We, and the industry, have also made it clear to government that planning delays to major infrastructure projects are costly and can jeopardise them.
"The delay to that planning decision has resulted in considerable costs to all parties at a time when public funds are already stretched."