Downham Market fire station blaze caused '£2m damage'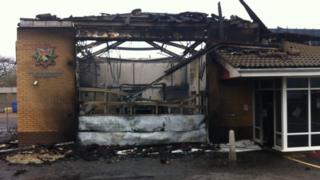 Damage caused by a blaze at a fire station in Norfolk has been estimated at £2m, the fire service said.
Crews were unable to save Downham Market station earlier this month after a fire during the night, which also destroyed a £250,000 force engine.
Deputy chief fire officer Roy Harold said the whole station may have to be knocked down and rebuilt.
He said it might not take place until next year. Meanwhile, crews have set up a temporary base at the police station.
The cause of the blaze, which forced some nearby residents to evacuate their homes, has not yet been established, though it is known the fire started in the engine bay.
At the time, Mr Harold admitted there was a "fire safety message there for us" after it was revealed the station, built in 2006, did not have sprinklers.
Regarding the damage, Mr Harold said: "Early indications suggest the damage is severe enough for the building to be knocked down and we will be looking to rebuild the station on the same site.
"We can assure residents that there will be a temporary fire station in Downham Market until a permanent station is built, and the service to the public has not and will not be affected."
Talks are currently taking place with insurers.