Norfolk badger colony damage costs council £35,000 to repair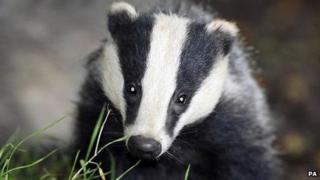 Burrowing badgers caused so much damage to a Norfolk country pathway that a council was forced to close it for two years, while repairs will cost £35,000.
Up to 20 badgers built a network of tunnels under Marriott's Way at Whitwell, threatening to undermine the route used by walkers and horse riders.
Norfolk County Council worked with Natural England to find solutions, some of which could have cost up to £500K.
A £35,000 scheme to stabilise the ground has finally been agreed.
The badger colony at Whitwell is Norfolk's largest, and working within "strict badger protection rules" was one of the reasons given by the county council for the length of time taken to begin repairs.
'Novel approach'
The animals' tunnels cover a 985ft (300m) stretch of the pathway which runs alongside an old railway embankment.
A spokesman said the path had to be closed as the badger activity had left it "liable to collapse at any time especially under the weight of horses".
Geophysicists from the University of East Anglia discovered the animals had "almost entirely tunnelled through a very specific section of the embankment... made up of softer sand and gravel", said Charles Wright, the council's landfill strategy manager.
A number of early solutions which could have cost hundreds of thousands of pounds, included building heavy-duty bridges or constructing an entirely new route.
Work has now started on a system using layers of "geotextile" membrane and aggregate to create a "strong and durable new structure", the council said.
David Brown, from Natural England - which approved the scheme - described it as "a novel approach to a very specific problem".
"Mitigation measures have been designed to prevent any blockages of the tunnel entrances so that the movement of badgers in and out of the sett will not be inhibited," he said.
The council hopes to reopen that section of the path in time for Easter.