Norfolk landfill sites in methane gas energy pilot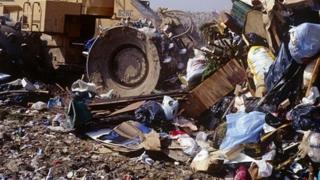 Two closed landfill sites in Norfolk are taking part in a trial to boost the amount of energy generated from gas at old sites by using new technologies.
The sites in Docking and Strumpshaw, which closed more than 10 years ago, produce methane gas in the process of breaking down waste.
The Environment Agency project aims to identify ways of extracting enough "old site" gas to be commercially viable.
The new systems will be continuously monitored for two years.
Charles Wright, from Norfolk County Council's landfill management team, said the sites are "good examples of smaller, older landfills that have been closed for a very long time, where methane levels are lower and it's more difficult to extract and utilise the gas.
"We have a long record of managing gas at these sites and this project will enable us to compare and evaluate the effect of different systems on the landfill sites and the effectiveness of the different methods of using the gas.
"We are very excited to be taking part in a project that could see a major shift in the way smaller older landfills are managed in the future."
Compost bacteria
The council generates about 3.5 mW of electricity from landfill gas at five sites in Norfolk, the equivalent of running more than 1,000 homes.
Project spokesman Geoff Baxter said: "At Docking we have installed two Stirling engines which will take some of the gas that is currently being flared at the site.
"This will be the first time that this type of engine has been installed and used operationally to manage gas at a closed landfill site in the UK and we feel confident that the lessons learnt will be applicable to other closed landfills.
"At Strumpshaw we will be piping the gas through a specially developed compost mixture containing bacteria which will help to break down the methane.
"Monitoring this closely will allow us to assess the efficiency of bio-oxidation as a way of reducing methane emissions."
Sites in Liverpool, Shropshire and Bradford are also taking part in the pilot project.