New Reload Festival sees Kool & The Gang and Human League among stars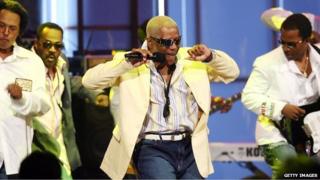 Some of the biggest names in music during the 1970s, 1980s and 1990s are to perform at a new two-day "retro" music festival in Norfolk.
Reload Festival will see Kool & The Gang, The Human League and Hot Chocolate hit the stage at the Norfolk Showground in Norwich in September.
Soul II Soul, Rick Astley and Billy Ocean will also be performing.
Promoter Dion Clements said the event would look to capitalise on the "growing demand for nostalgia".
Other acts set to play over the weekend include Sister Sledge, Heaven 17, Jason Donovan, ABC and From The Jam.
Mr Clements said nostalgic music events such as the Rewind Festival in Henley-on-Thames had proved very successful and the Norfolk Showground was the "perfect" venue to put on something similar.
He added that if successful, it could become an annual event.
"There's a growing demand for nostalgia and the fashion and synth sounds of the '80s have been coming back into the mainstream in recent years," he said.
"Most festivals are aimed at teenagers with their parents having to tag along, but here you'll see parents bringing along their kids - it offers something completely different."