Sir Nigel Gresley: Fastest steam locomotive banned from line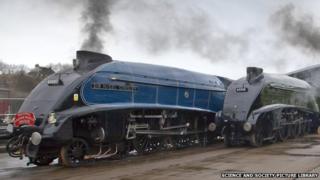 A steam railway gala will be without its star attraction after what organisers have called a "devastating" decision by Network Rail.
The Sir Nigel Gresley, holder of the post-war steam speed record, was due at North Norfolk Railway steam gala, which starts on Friday.
But permission for it to travel to the event via the Norwich to Sheringham branch line was withdrawn, apparently due to weight restrictions.
Network Rail has not commented.
Built in 1937, Sir Nigel Gresley, named after its designer, set a speed record of 112 mph (180 km/h) on 23 May 1959 with a full train of passengers.
'Why so late?'
It is one of six surviving A4 steam locomotives that featured at an exhibition at Locomotion, the National Railway Museum, at Shildon, County Durham, last month.
Trevor Eady, general manager of North Norfolk Railway, said permission to bring the locomotive to Sheringham had been applied for 12 weeks ago.
"This is devastating. This is something we have really worked hard to get," he said.
"There was no indication there would be a problem, then out of the blue on Thursday we found out the locomotive had not been cleared to travel on the Norwich to Sheringham branch line.
"We're led to believe it's due to weight restrictions. We accept that, but why on Earth has it been left so late? We could have really worked to find something else."
It was not possible to transport the locomotive to Sheringham by road for technical reasons, Mr Eady said.
"We always try to get a star attraction for our galas.
"People will be disappointed and we're trying our best to make sure they know."
Another locomotive designed by Sir Nigel, GNR N2 0-6-2T 1744, will be at the event.