Paralysed man kidnapped and robbed by 'opportunist criminals'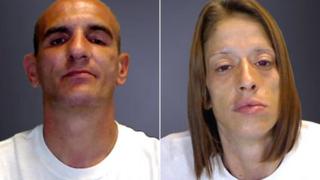 A couple from Norwich who kidnapped and robbed a vulnerable paralysed man have been described as "outside humanity".
Sarah Harcourt, 35, from Gypsy Close, was jailed for four years and Adam Webster, 38, from Bishop Bridge House, for six years at Norwich Crown Court.
They took Stephen Dooley, 38, who can use only one arm, from a day centre to the city centre Chapelfield Park, stole £7 from him and then abandoned him.
Mr Dooley's father said he struggled to understand this "inhuman crime".
'Visibly distressed'
Judge Anthony Bate, jailing the pair on Thursday for kidnap and robbery, said they were "habitual opportunist criminals with appalling records".
During a three-week trial, when Mr Dooley gave evidence over three days, jurors heard that he made his own way back to the centre alone after the attack on 8 August last year.
Staff immediately raised the alarm and Harcourt and Webster, partners at the time, were arrested within an hour.
The pair were identified from CCTV and questioned by detectives who charged them with kidnap and robbery.
Norwich Crown Court was told Harcourt admitted the offences.
Webster denied them but was convicted by a jury on 30 January.
Mr Dooley, whose speech is impaired, gave evidence in court through an interpreter and using a computer.
His father, Rev Gerald Dooley, said he struggled to comprehend why two people would do this and the crime was "way outside humanity".
"Your hear things all the time but you never think something like this will happen to your family," he said.
Det Con Jim Starling said: "Harcourt and Webster are the lowest of the low.
"For two people to target a man who clearly has no means of defending himself or even calling for help is beyond belief.
"Stephen would have been visibly distressed during the incident, but this didn't stop them pushing him to the park and robbing him of a few pounds before abandoning him."
He added: "Stephen needs constant care and is never alone and has been left very distressed by what happened."