Rescued Norfolk storm surge seal pups released back to sea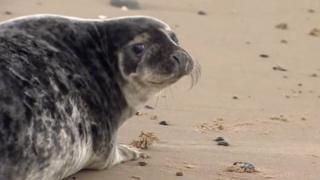 Grey seal pups orphaned when a storm surge hit the Norfolk coast in December have been nursed back to health and returned to the wild.
The RSPCA Wildlife Centre at East Winch, west Norfolk, cared for more than 100 seals after the high tides.
Without care it was unlikely the animals, found mostly at Blakeney and Winterton, would have survived as they still relied on their mothers for food.
Eight seals have been released on the beach at Winterton-on-Sea.
Centre manager Alison Charles said: "Within three days of the surge hitting we took in 58 seal pups, all with white coats and needing three hourly feeds.
"In the coming days we took in another 45.
"This was the worst possible time for them to be washed off the beach.
"In the first three weeks of their life they are very vulnerable and there is nothing to stop them being washed away.
"They were spread all over the coast and their mums couldn't find them - they would have starved to death."
Many other seals were also washed away by the surge but managed to reunite with their mothers without human intervention.
Mrs Charles has worked at the centre for more than 20 years and said she has never seen so many seals needing such high levels of care before. Twenty-six of the young seals taken to the centre died.
Some weighed as little as 15kg when taken in. After an initial diet of "fish soup", followed by solids, the healthy pups have tripled their body weight.
As they were set free, some made a dash for the water while others lingered by the shore before disappearing into the waves.
The RSPCA is hopeful they should adapt to nature quickly and now stand a strong chance of survival.
Mrs Charles said: "This has been an extremely hard time for all the staff and volunteers.
"But when you watch them go back to the wild where they belong, you know it is worth the effort."
Thirty seals remain in isolation units, while the remainder are being held in pools ready for their own release in the coming weeks.