Proud Canaries LGBT group supported by Stephen Fry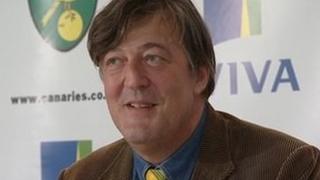 A Norwich City supporters' group officially launched during the club's match against Tottenham has been backed by Stephen Fry.
The actor is the honorary president of Proud Canaries, a new club for lesbian, gay, bisexual and transgender fans.
Amal Fashanu, the niece of the late Justin Fashanu, an ex-Norwich player and one of the world's first openly gay footballers, is patron.
"It's a fantastic coup to get Stephen," said the group's Di Cunningham.
Proud Canaries hopes to tackle homophobic behaviour at games.
"We've ended racist language in football pretty much on the terraces and in the stands and it's time to do the same with homophobic language," said Ms Cunningham.
Fry, who grew up in Norfolk and has a home in the county, tweeted the group his support on Saturday.
"It's brilliant that he's one of the directors of the club, so for him to be our honorary president is fantastic," said Ms Cunningham.
'Combating' discrimination
Patron Ms Fashanu was due to join the group on the pitch for its official launch at half-time.
She said: "I feel like Justin would be grinning from ear to ear. This has made me and my whole family very happy."
Norwich City spokesman Joe Ferrari said: "The club is committed to combating all forms of discrimination in the game, including homophobia.
"This week we paid tribute to City legend and Canary hall of fame member Justin Fashanu, who would have been 53 on Wednesday, and who sadly faced homophobia for years after coming out."