Norfolk County Council budget passed by two votes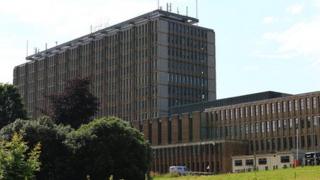 Norfolk County Council has approved a new budget that will freeze council tax and bring in cuts of £66m.
The budget was passed by just two votes after a debate lasting five-and-a-half hours at County Hall.
The council is run by Labour, the Liberal Democrats and UKIP supported by the Greens.
Agreement was reached after the Green Party, whose four members hold the balance of power, submitted a list of seven demands.
They had called for some proposed cuts to be reversed, for council tax to be increased by 3.5% and for 20mph (32km/h) speed limits in Norwich.
'Held to ransom'
The Green amendment was voted down by 75 votes to four with one abstention.
A UKIP amendment putting forward a number of further spending items, including an extra £250,000 to establish an emergency Coastal Defence Fund and a £127,000 increase to fund breaks for carers, was agreed by 40 votes to three, with 37 abstentions.
The budget was voted through after the council announced it would try to find an extra £1m for adult social services.
Cuts to bus subsidies, highways maintenance and the school well-being programme, which works to support school staff, were among those agreed.
The council also agreed to buy fewer library books and introduce charges for some planning advice.
Richard Bearman, leader of the Green group, admitted his party had held the administration "to ransom".
He said: "It's the only option we have sometimes with the way the council is structured at the moment and we'll use it to get the best deal we can for the Green Party in Norfolk.
"We have demonstrated that we're prepared to go right to the end of the debate and get the concessions that we ask for if that's what we want."
George Nobbs, Labour leader of the council, denying they were "held to ransom", saying "it's about compromise."
He said he was relieved the budget had been passed, adding: "The electorate voted for five parties and one independent.
Conservative group leader Bill Borrett said: "While the administration has now passed its budget, it has huge challenges ahead.
"There is doubt over the long term sustainability of the revenue and capital budgets over the three years."