Claxton Engineering crush deaths 'accidental'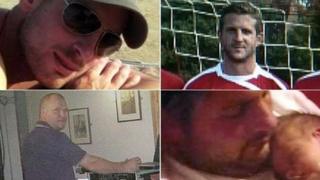 The deaths of four men from Suffolk who were crushed under 13 tonnes of steel on a building site were accidental, an inquest has concluded.
Daniel Hazelton, 30, his brother Thomas Hazelton, 26, Adam Taylor, 28, and Peter Johnson, 42, were killed at Great Yarmouth on 21 January 2011.
They were crushed when a structure collapsed at the site at Claxton Engineering in North River Road.
The inquest was held at Sprowston Manor Hotel, near Norwich.
The Hazelton brothers and Mr Johnson were from Stanton, near Bury St Edmunds, Suffolk, and Mr Taylor was from nearby Rickinghall.
The inquest heard that Claxton Engineering wanted a new site on which to carry out high-pressure testing of pipes for the offshore oil and gas industry and the firm hired Encompass Project Management to do the job.
Encompass then hired Hazegood Construction to carry out the groundworks and build the steel reinforcing cage.
Coroner Jacqueline Lake had directed the jury that accidental death was the only verdict open to them.
She said they must not apportion any blame or reach a verdict that may cause either civil or criminal proceedings.
Jonathan Elven, a Health and Safety Executive inspector, said it would look at the evidence heard and then consider whether to press charges against any company or individual.
Julia Kendrick, the barrister for Encompass Project Management, said the firm ceased trading in August 2012.
She added that Encompass had not carried out any steelworks since the accident and was not trading on any sites.
Hazegood Construction director Matthew Hazleton, the brother of two of the men who died, said his company had kept going but struggled to find work as a result of the damage to its reputation.
He said a decision would be made in the future by him and his fellow director Neil Gooderham about whether to continue running the business.
A statement issued on behalf of the families of the four men who died said: "We will never be able to come to terms with our devastating loss; four men went to work that day and never came home again.
"The evidence clearly showed that Dan, Tom, Peter and Adam were conscientious and skilled workers and no concerns were raised about the steelwork they were doing.
"We hope... lessons will be learned to ensure such a terrible tragedy never happens again."
A spokesman for Claxton Engineering said the company "has supported all investigations into this tragedy and will continue to do so".
It added: "The thoughts of everyone at the company are with the families who have lost their loved ones."