Cawston driver Michael Dewdney jailed over car crash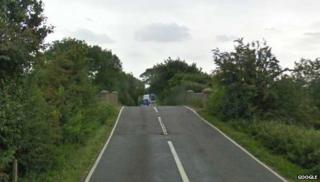 A 22-year-old man has been jailed for 32 months after seriously injuring three friends who were in a car he crashed while high on drink and drugs.
Michael Dewdney, of Half Mile Close in Norwich, was driving on the B1149 in Cawston when he overturned.
It was the first time Norfolk Police had charged anyone with the offence of causing serious injury by dangerous driving.
Dewdney had already admitted the charge at Norwich Crown Court.
'Far too fast'
One of the passengers in the Renault Clio had to have rods fitted in her spine.
Norfolk Police said Dewdney had been driving over the hump-back bridge on Holt Road.
Stephen Matthews, from Norfolk Police's serious accident investigation team, said: "Mr Dewdney had asked his friend how fast you could take that bridge.
"His judgement was no doubt impaired by the mixture of drink and drugs and he took the bridge far too fast, lost control and overturned into a field.
"This case will send out a message that if you drive dangerously and injure someone, then you are going to be held to account."
Dewdney was also banned from driving for three years.