Norfolk horse charity finds lack of enforcement in exports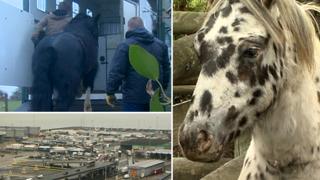 Horses and ponies are being exported across Europe as unscrupulous dealers exploit a lack of enforcement, the World Horse Welfare (WHW) charity has said.
The charity, based in Norfolk, said a "murky trade" had developed in the export of "low-value" animals which could end up in the human food chain.
The BBC found a lack of checks at ports was contributing to the problem.
Defra said export guidelines would be tightened from May.
The guidelines for the trade of horses and ponies are covered by the Tripartite Agreement, which was put in place to allow the free movement of sports horses between the UK, Ireland and France.
'Huge problem'
At the time of the horse meat scandal the government said there was no evidence of horses and ponies regularly being transported abroad for human consumption and if there was then its surveillance at ports would pick this up.
But BBC Inside Out East found a lack of checks at ports like Dover, which was allowing horses and ponies said to have little value other than as meat, to leave the UK.
Roly Owers, WHW chief executive, said: "We have discovered this really murky trade in low-value equines across Europe.
"It is not only a matter of for equine welfare, it is also a huge problem for equine health, and, as we have seen because of the relation with the food trade and the food industry, it is also an issue for human health as well.
"We know that over one 48-hour weekend there were 51 shipments exported from Dover to France and in 41 imports these are vehicles taking between two and 22 horses, so you can get a feel of the scale... we know there was not a single check by done by the authorities during that weekend."
The charity believes live horses are being shipped to the continent without any health checks or the basic standards of welfare and this is going on under the radar, particularly during weekends.
'No checks'
Rachel Andrews, WHW officer, said: "We are just monitoring which horse transports are coming through the ports and which ferry is there and to see what checks are being done.
"We have had information that wagons with horses on are going through with no checks at all... a lot of movements are done at the weekend.
"There may be less staff checking things... it seems to be when a lot of transporters are coming through," she said.
One horse trader, who operates through Harwich and Dover, told BBC Inside Out East he had been "through the UK, Ireland and Europe we have not been checked as much as we should be".
"There is not so many animal health [officers] at the ports to check us. Maybe once a year in Dover.
"We transport hundreds of horses and the ferry companies, they don't have a clue, so they are not really interested," he said.
Ferry company P&O said it had a policy not to carry livestock for slaughter and said that over the summer it stopped a large consignment of horses travelling in a poor state of health and with possibly the wrong documentation.
P&O said it had caught the same trader twice before, but he simply used another ferry company.
A Defra spokesperson said the purpose of tightening up the Tripartite Agreement in May was "to protect our horses from the threat of disease from overseas".
"Only horses that are in good health and supervised by approved industry bodies, such as thoroughbred racehorses, will be able to travel without being inspected first by a vet."
Mr Owers said: "It is a first step, a critical step we now have enforceable piece of legislation, but it will be worthless unless it is enforced and animals will continue to suffer."
The WHW evidence is now the subject of an official inquiry.
Watch more on this story on Inside Out, on Monday 10 February at 19:30 GMT on BBC One East and South East and afterwards on iPlayer