Joanne Foreman death: Fresh inquest ordered by High Court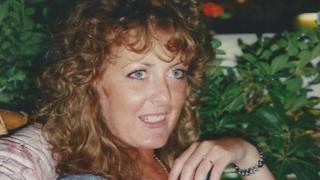 The family of a woman found dead at her home have won a High Court battle for a fresh inquest following an "inadequate" police investigation.
Two judges quashed the original March 2011 inquest into the death of Joanne Foreman, 41, of Horsford, Norfolk.
The inquest failed to determine the cause of Ms Foreman's death.
Lord Justice Pitchford, who heard the case with Judge Peter Thornton, said it was in the "interests of justice" that a new inquest be held.
He said it was common ground to all sides that the police investigation into the circumstances of Ms Foreman's death in St Helena Way was "inadequate".
'Insulin and alcohol'
He added: "In consequence, in at least one important respect the evidence presented to the coroner at the inquest was incomplete and inaccurate."
The court ordered the new investigation be held by the current senior coroner for Norfolk or an appropriate coroner nominated by her.
The judge said the verdict reached by former Norfolk coroner William Armstrong in September 2011 was a narrative one, which read: "It is not possible to reach a safe and reliable conclusion as to how Joanne Foreman died.
"She did not take any action (with the intention) of ending her life and no other person caused her death."
The judge said the coroner had recorded the "real possibility" Ms Foreman, who was not a diabetic, had taken insulin and consumed alcohol in combination which may have caused her death, even though he was unable to find this was the cause.
"Subsequent inquiries have effectively eliminated the possibility that the taking of insulin, even if it occurred, could have made any significant contribution to death," the judge said.
There was a "mistaken assumption" that taking insulin and alcohol may well have killed her, he said.
The judge added: "As a result, a substantial number of inquiries which could have been made were not."
The application for a fresh coroner's investigation was brought by Ms Foreman's stepfather Andrew Brown, with the authority of the Attorney General.
'Lost his proportion'
Last week Mr Brown, 67, appeared at Norwich Magistrates' Court after refusing to pay part of his council tax in protest at what he called the "total incompetence" of Norfolk Police and former coroner William Armstrong.
But Lord Justice Pitchford said he "unhesitatingly" rejected Mr Brown's claims of misconduct and dishonesty against the police and others, saying that none of them were "justified by the evidence that this court has seen".
He said he understood why Mr Brown had regarded the investigation as completely unsatisfactory, adding: "One can only express sorrow that at such a painful time for Joanne's family, they are beset with worry that they have been let down.
"Unhappily, however, Mr Brown, who is clearly an intelligent and experienced man, has lost his sense of proportion."
After the judges' ruling, Mr Brown said he was disappointed, adding it meant Joanne's death would continue to be poorly investigated.
He said he had hoped an order could be made for a coroner and a police force from outside Norfolk to investigate, but this was not within the judges' powers.