Royal Norwich Golf Course development plan revealed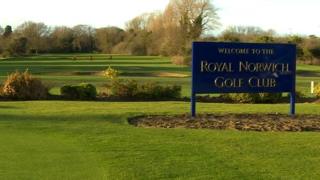 Plans to relocate the Royal Norwich Golf Club (RNGC) on a 300-acre site could lead to the development of up to 1,000 homes to the north of the city.
The 120-year-old club in Hellesdon is likely to relocate to Weston Park, near Lenwade, following an agreement with a housing developer and leisure group.
The proposals are subject to planning permission and approval by the golf club's members.
RNGC manager Phil Grice said it was a "unique opportunity" for the club.
He added: "The funds available will hopefully secure the next 120 years for the club. It's too good an opportunity to pass up.
"The site we're talking about is a beautiful 300 acres of parkland which if we can redevelop will be fantastic."
'Considerable investment'
The proposal is for developers Persimmon Homes to seek planning consent for up to 1,000 houses on the 120 acre site at Hellesdon, along with a conditional purchase agreement to acquire Weston Park from Banham-based leisure group Goymour Properties.
Subject to planning consents being obtained at both the Hellesdon and Weston Park courses, the RNGC will relocate to Weston Park.
Martin Goymour, managing director of Goymour Properties, said that "considerable investment" was needed to unlock the "full potential" of the Weston Park site.
"We have actively pursued such investment in the park... one with substantial funds to transform it into the best golf club that Norfolk can provide," he said.
Adrian Myhill, RNGC captain, said it was a "unique opportunity to produce facilities of the highest order."
Members of RNGC will vote on the proposals at a meeting on 21 February.
Subject to planning permissions being granted, the new course and facilities at Weston Park could be opened within three years.