Joanne Foreman death: Andrew Brown in council tax protest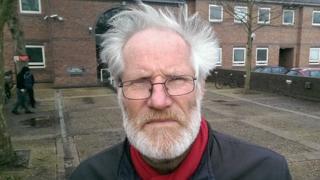 A man seeking a fresh inquest into his stepdaughter's death has appeared in court after refusing to pay part of his council tax as a protest.
Andrew Brown, 67, is refusing to contribute to Norfolk Police and Norfolk County Council.
He told Norwich magistrates the force and former Norfolk coroner William Armstrong were "totally incompetent".
He was ordered to pay South Norfolk Council, which collects the tax, £776 plus £50 in costs.
Mr Brown is dissatisfied with investigations into the death of his stepdaughter Joanne Foreman, 41, and is calling for the case to be reopened.
She was found dead at her home in St Helena Way, Horsford, near Norwich, in March 2011.
Since September, Mr Brown has been refusing to pay the portions of his council tax that go to the police and to Norfolk County Council, which appoints and pays the coroner.
"These people should not be in power in Norfolk. They are a disgrace," he told the court.
"If I have to go to prison, I will."
District Judge Peter Veits told him: "You are not going to prison today."
Granting South Norfolk Council a liability order, he acknowledged Mr Brown had grievances, but told him: "This is not the right place to make political statements."
'Unexplained death'
Mr Brown, of Old Costessey, near Norwich, has refused to accept the narrative verdict given by Mr Armstrong at the subsequent inquest in September 2011.
Mr Armstrong, who has since retired, concluded it was impossible to ascertain exactly how Ms Foreman died.
Mr Brown, a retired businessman, maintains the police were "incompetent" and that the investigation was "rigged".
Ms Foreman, who worked as a floor manager for clothes store H&M, was found collapsed in bed by her partner, Adrian Gayton, on the morning of 12 March 2011.
Mr Gayton told the inquest he had tried to rouse her as she was late for work, then immediately dialled 999 before making a futile bid to resuscitate her.
Police were called to the house and initially treated her death as non-suspicious, then later as "unexplained".
'Proper, full investigation'
A pathologist later concluded her "death may have been caused by a lethal combination of alcohol and insulin-induced hypoglycaemia".
Earlier this month, Mr Brown appeared in the High Court calling for a new inquest and a comprehensive inquiry, arguing that Norfolk Police "have still not effectively investigated the circumstances of my daughter's death".
Lawyers for Chief Constable Simon Bailey said police had carried out a thorough investigation but that the force would take a "neutral stance" on whether a fresh inquest should be ordered.
Judges have yet to rule in that case.
Outside Norwich Magistrates' Court, Mr Brown said he would continue to withhold council tax payments, and was prepared to be jailed if necessary.
"I'm determined there will be a proper, full investigation into the death of my daughter," he said.