Cavell Primary School: Council accused of withholding information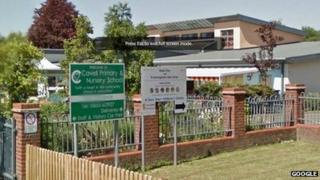 A parent campaigner has accused Norfolk County Council of withholding important information about a school.
The council plans to turn Cavell Primary and Nursery School in Norwich into an academy after it was rated as inadequate and put in special measures.
It has rejected a request for information on the school's performance and its current and future status.
The council said releasing the information might "inhibit the free and frank provision of advice".
David Ward, a member of the Save Cavell Primary and Nursery School campaign, which opposes the school being "forced" to become an academy by the council and the Department for Education (DfE).
Under the Freedom of Information Act 2000, he asked the council for all its correspondence, minutes and records relating to the school's performance "and its current and future status as a school" for the past three years.
'Good action plan'
The council refused, on the grounds that releasing the information would, or would be likely to, "inhibit the free and frank" provision of advice or exchange of views, or "prejudice the effective conduct of public affairs".
Mr Ward said parents had been informed about the process of becoming an academy, but not about why the decision was reached.
"What we have never been told, and what they are still trying to keep from us, is why this is necessary in the first place and what discussions they had to actually reach that position," he said.
"I wanted to know what conversations they had with the DfE about what to do about the school and what conversations they had with the governors.
"The school already had a good action plan in place. The governors had looked at the academy option and said it wasn't going to deliver improvements for Cavell."
Tom McCabe, interim director of environment, transport and development at the council, has responsibility for Freedom of Information requests.
He said: "This information is being held back under section 36 of the act which effectively says it would prevent a public body discharging its duties effectively.
"The act is there to provide information which is in the public domain. That information has been released."