East of England Ambulance Service to recruit 400 student paramedics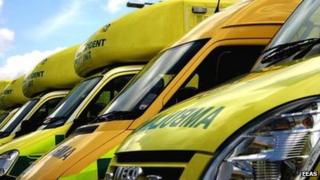 An ambulance trust which was criticised by MPs over response times has launched a campaign to recruit 400 student paramedics.
The East of England Ambulance Service (EEAS), which has been dogged by staff shortages, said the recruitment would eventually fill frontline vacancies.
It described it a "a great step forward for staff, patients and local communities". Unison welcomed the move.
Students will go into double-manned vehicles with qualified paramedics.
Paramedic shortage
Chief executive Dr Anthony Marsh said: "This programme will secure new employees for the service who will learn on the job and in the classroom.
It is a great opportunity for anyone who has ever thought of becoming a paramedic and helping people in their community, sometimes in their greatest hour of need."
Unison branch secretary Gary Aplin said the training of students was important, although there was still a shortage of qualified paramedics.
He said the new chief executive was starting to restore staff morale. "I believe it will get better," he added.
A report by the service last year showed the EEAS had failed in Suffolk, Norfolk and Cambridgeshire to reach its target of getting to 95% of Category A patients - those in life-threatening situations - within 19 minutes.
Earlier this month, it was announced the Cambridgeshire and Peterborough NHS Clinical Commissioning Group (CCG) was to withhold 2% of the EEAS's funding after it failed to meet response targets.
In recent months the service has been criticised by a health watchdog and MPs, leading to a management shake-up.
The ambulance trust covers Cambridgeshire, Hertfordshire, Bedfordshire, Norfolk, Suffolk and Essex.