Ballot begins as Tim Yeo fights to keep Suffolk seat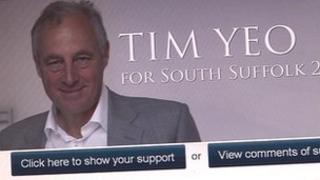 The gloves appear to be off in Tim Yeo's battle to remain in his seat of South Suffolk.
Ballot papers have gone out to 600 local party members, while supporters and detractors are squaring up to one another.
"After 30 years we need a change of face and a freshening up," Simon Barrett, who's a member of the South Suffolk Conservative Association executive, tells us.
"We have obviously got a few MPs locally who are making more of a mark and we are missing out by not having a more dynamic MP.
"What he should have done is to say 'I'm 70, I retire' and we could have all got behind him and had a jolly good send-off instead of the animosity we have now," he adds.
It's all a rather visceral for genteel Suffolk where Mr Yeo has been an MP since 1983.
At the last election his majority was more than 8,500 but in November, the bombshell from his constituency association, that they didn't want him to be their candidate in next year's General Election.
Mr Yeo has asked for a ballot of all the association's members.
'Quite confident'
He said: "I look forward to the result of this ballot eagerly. I am quite happy to be judged on my record on what I've done in South Suffolk - what I do at Westminster, for Parliament and for the Conservative Party.
"I am quite confident that if people look at my record then they will reach the verdict that I hope - which is to reselect me."
Perhaps inspired by Crispin Blunt's victory over his local party's attempts to deselect him a couple of months ago, Mr Yeo has set up a website of endorsements which reads like a Who's Who of the House of Commons.
Chancellor George Osborne, no less, describes Mr Yeo as "experienced, conscientious, thoughtful, loyal and steady under fire."
Education Secretary Michael Gove enthuses: "Tim worked tirelessly to achieve this for the benefit of his constituents and to help the roll-out of one of our flagship programmes. I would be very sorry if Tim had to leave the house prematurely."
Mr Yeo will be 70 at the time of the next election in 2015.
We'll find out the results of the ballot on whether he'll be allowed to stand again on 3 February.
Letter
Not only has Tim Yeo set up the website in which friends and colleagues sing his praises, he's also written to association members telling them that now is not the time to replace him with an inexperienced and unknown candidate.
"Right now more than two out of five Conservative MPs are in their first term," the MP writes .
"Five of the seven Suffolk MPs were first elected in 2010. It's important we have a bit of experience in the House of Commons."
"Given the difficulty of being in a coalition, the next election won't be easy and it's late in the day to bring in a new and unknown candidate."
Mr Yeo outlines his long record of service as an MP and highlights campaigns for new facilities in Sudbury and his opposition to aircraft noise and wind turbines as evidence of him fighting for his constituency.
To balance things out a little, some of the executive members who have opposed Mr Yeo's re-selection have also written to party members accusing their MP of being "largely invisible".
"Tim Yeo has one of the lowest records of attendance in Parliament of any MP in recent years," they say. "Unlike other Suffolk MPs ...He rarely meets with Conservative County or District Councillors and therefore offers them little support".
"The overwhelming majority of Conservative activists, officers and elected members in South Suffolk believe that it is time for a change and this is essential if we are to keep South Suffolk Conservative."
The battle rages.
Prime Minister
The Prime Minister has now given his support to the embattled Suffolk MP,e Tim Yeo. David Cameron said it would be "a great loss" if his local party did not reselect him.
This is a significant development in Mr Yeo's attempt to stay on as an MP. In an open letter to Mr Yeo, David Cameron praises the South Suffolk MP's tenacity and commitment to his constituency and his expertise in rural affairs.
Those local members who haven't yet decided whether Mr Yeo should be their candidate in next year's general election will have to decide how important an intervention the PM's letter is.