Jobs set to go as Norfolk County Council saves £69m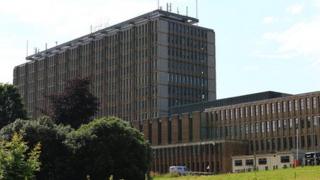 Plans to cut jobs and services at Norfolk County Council have been put forward as the authority struggles to make about £69m of savings in 2014-15.
The £308m budget goes before the council's cabinet on Monday.
The council is setting aside £19m in reserves in the budget in case a £500m incinerator plan does not go ahead and compensation has to be paid.
Over the next three years, about £121m in savings are needed and 700 to 800 jobs could be lost.
Councils across the country have been hit by cuts in grants from central government and the downturn in the economy.
Highways work cut
The county council, which is controlled by an alliance of Labour, UKIP and Liberal Democrats with Green and Independent support, will see savings of £20m in 2015-16 and £31.8m in 2016-17.
The 2014-15 draft budget includes £15.7m of savings in the adult social care department and £14.6m of savings in the environment and transport department.
Transport savings include reducing highway maintenance for a year to save £1m.
Childrens' services will see savings of £13.1m with £2m coming out of the department reserves, partly to protect public transport subsidies to 16-to-19-year-olds for one year.
The Norfolk Fire and Rescue Service will also see a £1.7m cut in its funding.
The authority is also cutting £2m from the cultural services budget which would see a £350,000 cut in the library budget to buy books and a cut in library staff.
The council has decided to freeze its part of the council tax bill.
A final decision on the budget is made by the full council on 17 February.