Two resign over Cambridgeshire Tory vote 'shambles'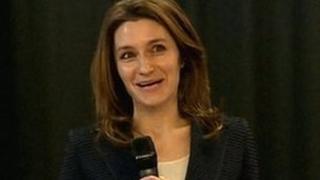 Two members of the Conservative Party in Cambridgeshire have resigned over concerns about the selection of a general election candidate.
In December Lucy Frazer was chosen in a primary to stand in the safe seat of South East Cambridgeshire.
The local party looked at the election again after allegations votes had been miscounted, but chose not to rerun it.
Colin Barker, who has resigned after 40 years as a party member, said the process had been a "shambles".
The votes are alleged to have actually put another candidate ahead of Miss Frazer, who works as a barrister in London.
The primary allowed any constituent to have a vote, not just party members.
'Totally untenable'
At an emergency meeting of the local Conservative Party last week a majority of members voted to keep her as the candidate.
"We have become a laughing stock," he said.
"We continue to compound that by trying to justify the decision. It is totally untenable.
"There are others I know who have resigned who are party workers. They work for the party at election time. They have gone and I don't know how the party is going to replace them."
Peter Johnson, a Conservative South Cambridgeshire councillor for eight years, has also resigned.
He said he was disappointed by the way the selection process has been handled.
"If there is any doubt with an election, you should rerun it. I don't believe you should go along with it for the sake of the party. That does not make it right," said Mr Johnson.
The Conservative Party nationally said it was a matter for the local association.
The local association has yet to respond to the resignations or the allegations, but following the endorsement of Miss Frazer, Peter Cresswell, chairman of South East Cambridgeshire Conservative Association, said: "The overwhelming vote for Lucy at our association general meeting means that we can put this difficult situation behind us.
"In Lucy Frazer we have an extremely capable and talented Parliamentary candidate. Lucy is the ideal person to represent the constituency in Parliament, and will continue to impress everyone who has the pleasure of meeting her in the coming months."