Norwich: Police officer's leg broken in street attack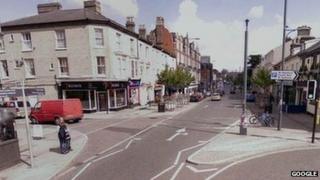 A police officer suffered a broken leg when he was attacked while responding to a call in Norwich's nightlife area.
The officer was knocked unconscious on Prince of Wales Road, sustaining a broken shinbone and back injuries in the early hours of Sunday.
He was taken to the Norfolk and Norwich University Hospital where he is receiving treatment.
A police sergeant was treated by paramedics for slight head injuries but she remained on duty.
The attack took place shortly after 01:00 GMT when police were called following reports that a number of women had been assaulted inside Mojo's nightclub.
Officers were dealing with a suspect, who had moved to an area outside Ossi's takeaway and Beeline Taxis, when they were assaulted.
'Assaults too common'
A 21-year-old woman, believed to have been assaulted in the club before police arrived, was also taken to hospital with minor head injuries but has since been discharged.
Police arrested a 19-year-old man on suspicion of assault.
He remains in custody at Wymondham Police Investigation Centre where he will be questioned by detectives.
Michelle Lillie, general secretary of Norfolk Police Federation, said: "We have been in touch with the officer and his wife and are making sure they are getting looked after.
"He's doing OK, considering. He's still in hospital and is expecting to have an operation on his leg and get it pinned. He's had some scanning done on his back and it's OK at the moment.
"Unfortunately assaults on officers are all too common, but serious injuries and broken bones are fortunately very rare."
She said most policing operations in Prince of Wales Road ran smoothly, but that there was "the occasional flare-up".
Miss Lillie added: "Where something does happen and you have the potential for lots of people to get involved, you can find yourself short of officers."
She said the Federation would be seeking a meeting with force management to find out what had happened in this case, and whether any lessons could be learned.