Dersingham war memorial row man wins Royal British Legion trophy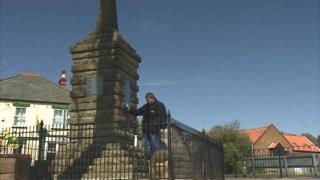 A man who was reported to police for causing criminal damage to a war memorial despite tending it for years has won a trophy.
Kurtis-Ross Green, 20, is one of three volunteers to receive the Royal British Legion's (RBL) award for Norfolk's best-kept memorial at Dersingham.
Last year he said the parish council reported him and two others over attempts to use mains water on flowers.
Kate Williams, RBL East Anglia area manager, said his work was "admirable".
No charges were subsequently brought against the volunteers by the police.
Mr Green and his fellow committee members of the Dersingham and Sandringham RBL branch, John Houston and Valerie Brundle - whom he calls the Memorial Three - were presented with the Coltishall Cup for their efforts by General Sir Richard Dannatt on Saturday.
Great honour
Mr Green, who lives opposite the monument on the junction of Hunstanton Road and Station Road, started looking after it when he was seven years old.
It is inscribed with the names of local men who died fighting in both world wars.
"They deserve to be respected and remembered," said Mr Green, who is the RBL local branch secretary.
"I'm very pleased to have won the award. To be elected and then to receive it is a great honour."
Mr Green clears litter from the site each day and then does more maintenance once a week along with the committee members.
Miss Williams said: "Nobody has asked him to do it but he wants to make it look good and he's done such a wonderful job.
"If we had a special award we could give him we would.
"He's a complete star and he humbles you and doesn't think it's a big deal. It's admirable."
In 2009, Mr Green received a Young People of the Year award for his work at the village memorial.
Mr Green said the police became involved in the dispute with Dersingham Parish Council when he tried to connect a pipe to the underground mains so he could water the flowers.
The parish council said at the time it was unable to comment on the matter.