Norfolk Police criticised in bid for new Joanne Foreman inquest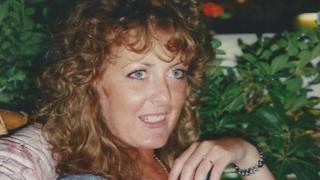 A man seeking a fresh inquest into his stepdaughter's death has told the High Court that Norfolk Police "did not effectively investigate" the case.
Joanne Foreman, 41, was found dead at her home in St Helena Way, Horsford, Norfolk, in March 2011.
Stepfather Andrew Brown said he refused to accept the narrative verdict of Norfolk coroner William Armstrong.
He has told the BBC he is angered by police "incompetence" and believed the entire investigation was "rigged".
Mr Brown, of Old Costessey, near Norwich, told the court he had devoted "hundreds of hours" to finding the answers which still elude him over the death of shop worker Ms Foreman.
An inquest was held in September 2011, with Mr Armstrong, now retired, recording a narrative verdict on the basis that it was impossible to ascertain exactly how she died.
'Very suspicious'
Representing himself before Lord Justice Pitchford and Judge Peter Thornton QC, Mr Brown claimed Norfolk Police "have still not effectively investigated the circumstances of my daughter's death" - despite conducting repeated reviews and re-investigations of the case.
Both Mr Armstrong and the Chief Constable Simon Bailey were legally represented in court.
Lawyers for the chief constable insisted that police had carried out a thorough investigation but made clear that the police would take a "neutral stance" on whether a fresh inquest should be ordered.
It was conceded that "some new facts had emerged since the inquest" in relation to blood and glucose levels found at the time of death, but the chief constable's lawyers said they doubted whether these facts would lead to a different verdict in the future.
Outside court, Mr Brown said he was looking for a new inquest and a comprehensive inquiry into the facts surrounding Ms Foreman's death.
"I want the police to investigate people who have acted in a very suspicious way and have changed their version of events time after time," he added.
His stepson Nathan Wilson said: "My sister died in very suspicious circumstances, and we have never felt those circumstances were properly and fully investigated."
Mr Brown has previously told the BBC: "This is my last resort - I've been driven to this because I can't get any answers any other way.
"I'm not doing this out of some misguided loyalty to Joanne or altruistic reasons - we have a right to know.
"I think there has been an injustice.
"How can a perfectly healthy 41-year-old woman just die?"
'Lethal combination'
Ms Foreman, who worked as a floor manager for H&M, was found collapsed in bed by her partner, Adrian Gayton, on the morning of 12 March 2011.
He told the inquest later that year that he had tried to rouse her as she was late for work, then immediately dialled 999 before making a futile bid to resuscitate her.
Police were called to the house and initially treated her death as non-suspicious, then later as "unexplained".
A pathologist later concluded that "death may have been caused by a lethal combination of alcohol and insulin-induced hypoglycaemia".
At the start of the case, Lord Justice Pitchford noted that lawyers now "concede that there are grounds upon which the court could order a fresh inquest to take place".
He reserved judgement but said a decision would be made as "rapidly as possible".