Tory candidate confirmed despite election controversy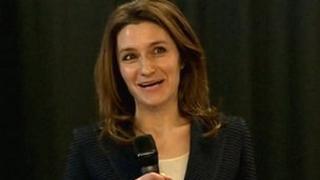 It may seem a little odd that the new Conservative candidate for South East Cambridgeshire may not have actually won the race.
Trumpeted as a way of reviving the democratic process, the replacement for retiring MP Sir James Paice was selected at an open primary last month. Anyone on the electoral roll who attended the meeting could vote, not only Conservatives, and a couple of hundred did just that.
Then it emerged that December's ballot, which chose Lucy Frazer as candidate, was flawed and votes may have been miscounted. Complaints emerged about ballot papers not being properly printed and votes for an opponent ending up in Miss Frazer's pile,
Conservative headquarters told the local constituency association to decide whether to back the candidate or re-run the election, so an extraordinary meeting was called.
This one was far from open. It was held behind closed doors and left us wondering exactly what had gone on.
Party unity
Miss Frazer arrived knowing there was a lot of anger in the local party about her election. The high-flying barrister from London had not been the favourite to win the seat.
On the way in to the meeting some constituents said the whole campaign needed running again. Others said they had backed her the first time and saw no reason not to do it again.
At the meeting, apparently heated at times, the majority who spoke called for a re-run but when it came to the vote they decided to endorse the candidate.
It seems concerns over party unity and a wish to bring the controversy to a speedy conclusion outweighed any desire to put the matter to the test.
If you were embarking on a new career, particularly a career in public life, you wouldn't choose to start under these circumstances but Miss Frazer has remained tight-lipped after this rather inauspicious start to her political career.