Michael Souter: Ex-BBC man to appeal against sex attack conviction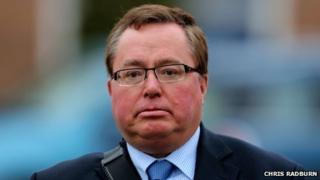 An ex-BBC presenter jailed for 22 years for sex attacks on boys is to appeal against his conviction and sentence.
Michael Souter, 60, of Loddon, Norfolk, was convicted in October of 19 sexual assaults on seven boys aged between 11 and 16 from 1979 to 1999.
Souter had worked for BBC Radio Norfolk in the 1980s.
A Judiciary spokesman confirmed Souter had applied for permission to appeal with the Criminal Appeal Office. No date has yet been set for a hearing.
At his trial at Norwich Crown Court, Souter was also found guilty of seven counts of making and possessing indecent images of children under the age of 18.
'Ongoing sexual obsession'
The court heard Souter, who also worked for Radio Clyde in Glasgow, had used his local celebrity status to abuse his victims.
Jailing him, Judge Mark Lucraft QC said Souter's claims that allegations against him were fabricated and the result of a conspiracy were "pathetic".
He told the court Souter displayed an "ongoing sexual obsession with boys" and posed a risk of further offending on his release from prison.
The court heard Souter had also been investigated in 1993 and 2002, but no charges were brought.
Documents will now be sent to a single judge for consideration.
If that judge grants Souter permission to appeal, his case will be heard by three judges.
If the judge refuses permission, Souter would be free to renew his application, which would then be heard by three judges at a date to be fixed.