Storm surge costing councils in East of England £3.4m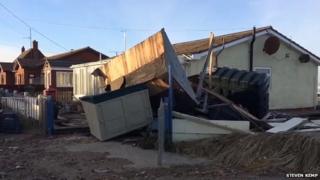 The biggest North Sea storm surge in 60 years could cost local authorities in the East of England about £3.4m.
In December the coasts of Norfolk, Suffolk and Essex were battered, leaving some sea walls demolished and some buildings destroyed.
The BBC Politics Show in the East asked councils how much they had to spend on clearing up and repair sea defences.
North Norfolk council, which faced the brunt of the storm, has already spent £3.1m on the clean-up.
King's Lynn and West Norfolk councils are expected to spend £96,866, while Great Yarmouth is spending £24,000.
Waveney and Suffolk Coastal expect to spend about £140,000 to repair sea defence damage and Tendring in Essex says its expects to spend £30,000.
North Norfolk district council leader Tom FitzPatrick (Conservative) told the Politics Show in the East that the authority would only be able to recoup about £1.6m from its insurance and was hoping the government would step in to meet the funding gap.
He said if money was not forthcoming from the government the council would have to "dig into the reserves".
The Bellwin Scheme was introduced in the 1980s to provide some government support for flood-hit areas, but only provides funds for temporary flood measures and the work must be undertaken within two months of the flood.
Conservative leader Mr FitzPatrick said: "The shortcoming of the scheme is it is for doing emergency repairs, plugging the gap, in the short term. But we don't see the point in doing that.
"We couldn't do that because with some of the breaches in defences it was a matter of getting those properly repaired, getting them substantially repaired in case it happens again."
EU funding
Conservative MP for Waveney Peter Aldous said the Bellwin Scheme worked better in dealing with inland flooding where temporary defences might be effective.
"It is clearly not appropriate in this case where the repairs could take many months," he said.
Andrew Duff, Liberal Democrat MEP for the Eastern region, said local authorities may be able to get support from the European Union.
"Local authorities we know are extremely stretched and we need to exploit all sources of revenue that we can," he said.
Communities minister and Conservative MP for Great Yarmouth Brandon Lewis said the government would look at any calls for funding from council hit by the storm surge.
He said the Bellwin Scheme provided appropriate support in many cases and the Environment Agency was also funding flood defence work.
The Politics Show in the East is on BBC1 starts at 11:00 GMT on Sunday and will be available nationwide on the iPlayer for seven days afterwards.