Bryan Gunn could be forced to repay part of Dove Trust debt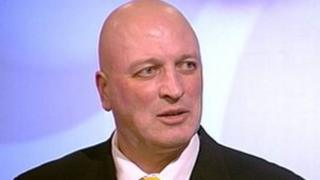 Charity trustees, including former footballer Bryan Gunn, could be asked to pay back part of £1.7m following an investigation by the industry watchdog.
The Charity Commission is investigating the Dove Trust, based in Bawdeswell, Norfolk, over missing annual accounts.
It estimates the charity owes about £2.2m, but has about £500,000 available in its currently frozen bank account.
Attempts by the BBC to reach Mr Gunn and the Dove Trust for comment have been unsuccessful.
Former Norwich City goalkeeper and manager Mr Gunn and Donna Naghshineh were excluded as trustees as part of the inquiry.
'Misconduct and mismanagement'
The commission said a third trustee - Keith Colman - resigned after an exclusion was "served on him" but before it was "able to remove him".
The currently suspended Charity Giving website, which was run by the Dove Trust, collected funds on behalf of more than 70 charity campaigns, including Bryan Gunn's Leukaemia Appeal.
The watchdog became involved over concerns the trust's last set of accounts were from 2009.
The investigation is continuing but the commission says it has found evidence that there was "misconduct and mismanagement" at the charity.
The commission has not clarified who was responsible for any alleged misconduct or mismanagement.
It is asking the High Court to decide how the interim manager appointed to run the Dove Trust can lawfully distribute funds to those owed money.
Michelle Russell, head of investigations at the Charity Commission, said: "Our priority is to make sure that the available funds go to the charities quickly, but also fairly and securely."
The Charity Commission said "all available options for recovery" were being pursued.
"Ultimately, the trustees are responsible and liable for making good any losses."