A47 Postwick Hub approved by government ministers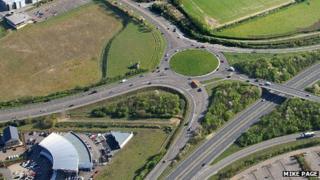 The government has given the go-ahead for a £19m road junction on the edge of Norwich.
The A47 Postwick Hub could be linked to the proposed Norwich Northern Distributor Road (NDR), intended to run around the east and north of the city.
New slip roads and a second bridge will replace existing side roads at the hub, which could serve a new business park.
The junction was approved after the government received a 129-page report following a public inquiry.
More than 130 people objected to the interchange, with many concerned it was "over-designed, too complex and complicated".
They also feared it would pave the way for the separate NDR scheme, which has yet to be approved.
The 14-day public inquiry was held in the city last summer, led by government planning inspector David Wildsmith.
The Highways Agency said the junction needed to be replaced to tackle "serious congestion" problems which would get worse.
Supporters of the scheme have said the junction improvement would help to provide 5,000 jobs and 1,600 homes.
David Harrison, Norfolk County Council cabinet member for environment, transport, development and waste, said: "This is great news for jobs, housing and the Greater Norwich economy.
"We will now be moving as quickly as possible to start on site."
The interchange already had planning permission but the slip and side roads needed to be approved.
The Postwick Hub and NDR were awarded £86.5m from the Department of Transport in 2011.
The Planning Inspectorate is currently reviewing the separate NDR application, but it will depend on a development consent order being approved.