Old Buckenham Airfield expands hangars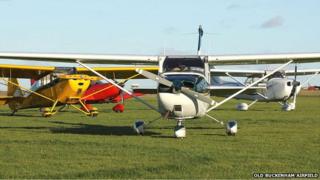 A former World War Two airbase once used by the US Army Air Forces (USAAF) is carrying out a "six figure" expansion of its hangars.
Old Buckenham Airfield in Norfolk was home to the 453rd Bombardment Group during WW2 and saw 366 servicemen lose their lives.
It has been a public airfield since the early 1990s and it now plans to double its bays to keep up with demand.
Manager Matt Wilkins said the work would be completed by next month.
The airfield, which hosts a number of air shows throughout the year, said plans to increase its hangar space began 15 years ago, but stalled under a previous ownership due to a lack of finances.
The expansion would now allow it to boost its capacity from 25 to 45 light aircraft, with further plans to increase its military displays in the future.
"We've been turning people away for at least a year, but now we're finally able to double our main building," said Mr Wilkins.
The airfield recently held a show to mark the passing of the autogyro inventor and former James Bond stunt pilot Wing Cdr Ken Wallis, who was a life member at Old Buckenham.