Norfolk and Suffolk NHS pays out over Essex train suicide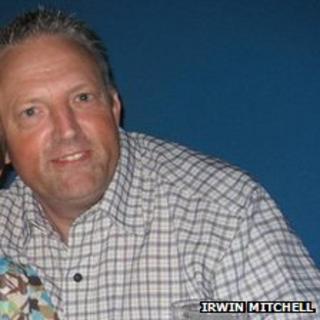 An NHS trust has admitted more could have been done to help a Norfolk man who threw himself in front of a train in Essex.
Peter Bane, 48, from Happisburgh, died when he was hit at Witham railway station on 16 February 2010.
The Norfolk and Suffolk NHS Foundation Trust paid an undisclosed amount to his family in an out-of-court settlement.
His widow said he was "let down" by the trust. A trust spokesman said services had since "improved substantially".
Mr Bane, a father of three, had sought help from the trust's psychiatric services on a number of occasions in the weeks leading up to his death.
The trust accepted that had Mr Bane been admitted to a psychiatric hospital and given appropriate treatment when he asked for it, his suicide 11 days later would probably have been avoided.
'Inadequate procedures'
An inquest into his death in 2011 found that information about the severity of his condition was not shared appropriately between mental health professionals.
His wife, Angela, called for lessons to be learnt by other trusts about "inadequate procedures" she said were to blame for her husband's death.
"Peter was let down when he needed professional help most," she said.
"As we hear more and more news about cuts to mental health services and budget restraints, what happened to Peter only goes to show what a poor state many mental health services in the UK are in."
Dr Hadrian Ball, medical director of the trust, said: "Services have been improved substantially since Mr Bane's death to reduce the chance of anything similar happening again.
"The Trust's senior management is committed to continual improvements in our services and we will work with commissioners to ensure that recommendations continue to be implemented and learning shared."