Great Yarmouth former waxworks museum for sale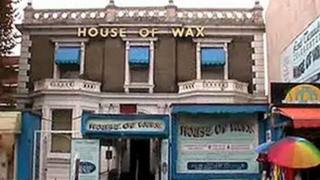 A former waxworks museum which gained a cult status for its exhibits has been put on the market.
Louis Tussauds House of Wax in Great Yarmouth closed last year after permission was granted to turn it into housing.
The empty building in Regent Road is for sale at £375,000.
Hamish Duncan of Howards estate agents said the property, which includes living accommodation, had attracted a reasonable amount of interest.
Owners Jane and Peter Hayes are both in their 80s and had said they wanted to retire after running the museum since 1954.
In 2012 they successfully applied for permission to turn it into housing.
Louis Tussauds House of Wax gained a cult following and in 2008 was reported to be home to "the world's worst waxworks".
Named after the great-grandson of Madame Tussaud, the museum promoted itself as being "different", remembering "stars and famous people as they were at their height of fame".