Tidal surge-hit Norfolk seal pup donations top £90,000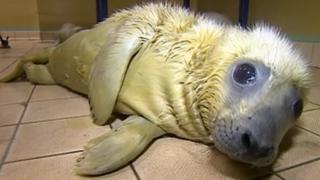 Donations to help care for more than 100 seal pups orphaned in December's tidal surge off the Norfolk coast have reached more than £90,000.
The pups, mostly from Blakeney and Winterton, were taken to the RSPCA's wildlife centre in East Winch.
Centre manager Alison Charles said the public's generosity towards the seals was "absolutely astounding".
"Everyday we open the post and there are more and more cheques, it's incredible," she said.
The centre currently has 85 pups in its care, with 46 still on intensive three-hourly feeds. Since the storm surge, about 20 pups have died during rehabilitation.
"Some are over the worst period and are looking quite healthy, but now we need to feed them up, get them fit and give them lots of pool time so they are exercising well to go back to sea," said Mrs Charles.
"£91,000 is just incredible, absolutely astounding, but we're ploughing through herring and mackerel and many of the seals are still on antibiotics - we're using a lot of money to pay for their drugs."
Pungent fish soup
Mrs Charles has worked at the centre for more than 20 years and said she has never seen so many seals needing such high levels of care before.
She said: "We know how fantastic seals are but I didn't realise the public appreciated them as much as they do. You can't believe how much support we've had - it's incredible."
The seals cost about £22 a week each to be fed with a pungent "fish soup" created from a blend of herring, mackerel and a rehydration solution, before moving to fish solids.
"When you add in the medication costs, the heating, the lighting, the water to clean them - I dread to think how much it actually is - but all that effort is worth it when you see them go back to the sea," said Mrs Charles.
The 21-strong team of staff, helped by volunteers, feed the pups every three hours from 08:00 GMT to 01:00 GMT.
She added: "We've got aching hands, shoulders and bruised knees and quite a few bites - we're falling apart, but the seals are looking a lot better."
The team at East Winch hope the first of the tide surge seals currently being cared for will be fit enough to be released back into the North Sea in early February.