Ambulance times 'need rethink' - minister Norman Lamb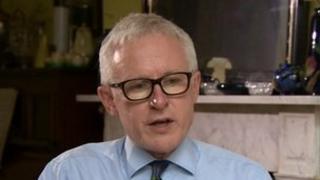 A minister has called for a change in paramedic response targets in rural areas after a man collapsed and died.
Norman Lamb, MP for North Norfolk, highlighted the case of Peter Nelson, who waited nearly two hours for an ambulance and died in hospital from a haemorrhage.
The 26-year-old collapsed at his home in Blakeney, Norfolk, on 14 November.
Mr Lamb said response time targets should change as some trusts focused on urban areas in order to meet them.
The health minister said he would raise the issue with NHS England.
The East of England Ambulance Trust said: "The ambulance service has written to Peter's family to confirm an investigation is under way and, until this is complete, it would be inappropriate to discuss the matter further."
Mr Lamb said Mr Nelson's case was "all too familiar", adding: "We need to rethink these targets because they distort behaviour.
'Rural areas neglected'
"I don't have a complete blueprint for the answer but I'm clear there is a massive risk that the current system is distorting clinical priorities and rural patients are suffering as a result."
He said he was due to meet Sir Bruce Keogh, who has carried out a review of emergency care, in the coming weeks.
He added: "It seems that if they meet the target for the whole of the east of England, it satisfies the government target but the danger is they focus on urban areas where they can easily hit the target and rural areas get neglected.
"I'm sure this isn't limited to the east and you can't have a system that allows rural areas to lose out while trusts apparently meet Whitehall targets."
Mr Nelson had arrived home from work with a headache and collapsed later that evening.
Emergency services were called at 23:15 GMT and a paramedic arrived within 15 minutes. The paramedic contacted the control room three times asking for the ambulance to arrive sooner, but it did not arrive until 01:00 GMT the next day, Mr Nelson's family said.
'Seriously wrong'
Mr Nelson was eventually taken to Norfolk and Norwich University Hospital where he died.
His father Sidney said: "He was an otherwise healthy young man. He just came home one night and it was obvious there was something seriously wrong."
The East of England Ambulance Trust has recently appointed a new chief executive after criticism that response times in the region were among the worst in the country.
Targets have been put in place for paramedics to reach the most urgent 999 calls within eight minutes and get a vehicle to patients within 19 minutes.
The ambulance service has not offered the family any explanation for the delay but has told them an investigation has been launched.
A spokesman refused to comment on an ongoing inquiry but clinical operations manager Duncan Moore wrote to the family acknowledging that it appeared to have been a "serious incident".