Queen 'late for lunch' after Sandringham service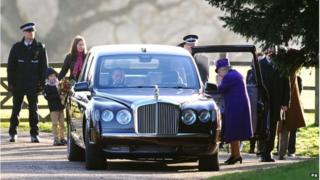 The Queen ended up being late for Christmas lunch after she was greeted by unexpectedly large crowds, palace officials said.
Her Majesty left in her maroon Bentley immediately after the Sunday service at Sandingham.
She dispensed with the usual practice of receiving flowers from children.
Officials told well-wishers that The Queen had taken so many flowers on Christmas Day that she was late for the family meal.
On Christmas Day, about 5,000 members of the public gathered to see the royals at the Sandringham estate.
So many youngsters attended with flowers that the Duchess of Cambridge lent a hand collecting them.
Well-wishers were earlier asked to give flowers to Princess Anne following the service at St Mary Magdalene Church.