Norwich Kings pub landlords beaten in homophobic attack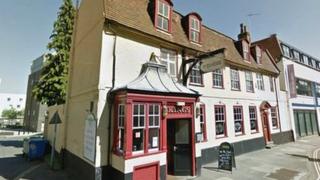 The landlords of a Norwich pub have been injured after being beaten up by a gang of men in a homophobic attack.
Jesse Charlebois, 34, and David Hayes, 26, were attacked in Kings, on King Street, at 17:30 GMT on Saturday.
Chef Andy Watt was also bitten on the hand and suffered concussion in the attack, which began after a group of 15 men were asked to leave the pub.
Police are treating the attack as a hate crime and are reviewing CCTV footage.
Mr Charlebois said: "It's the first time I have experienced true homophobia.
"I don't think it was a targeted attack, but once they understood we were both gay that put us at a huge disadvantage and they used that to maximum effect.
"Considering there were so many blokes, it could have been worse. I've got a black eye and I'm going to have a scar on my face. I've got bad headache and a big lump on the back of my head."
Mr Charlebois said he had been heartened by messages of support received from as far away as Florida, Australia and Canada.
Anyone who witnessed the attack, or who saw the group of 15 white men in their 20s or 30s either before or afterwards, is asked to contact police.