Norfolk 16th Century gold hook reveals textile history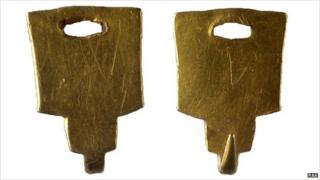 A gold hook found in Norfolk has given an "interesting" insight into 16th Century fastenings, an expert has said.
The 20mm (0.8in) long fastener was discovered by a metal detecting enthusiast near Foulsham.
Norfolk finds officer Adrian Marsden said such hooks were "used to hold up skirts when crossing a muddy yard".
He said it was "very unusual" as the hooks were usually made from copper alloy or silver because they were could not easily be seen on clothing.
He added that the lack of decoration and irregular edge of the hole suggested it was unfinished.
The hook was amongst a number of finds declared treasure by Norfolk's senior coroner Jacqueline Lake.
Mr Marsden, who is based at Norwich Castle Museum, said to see one of the fastenings in gold was "very unusual".
"These are very standard in copper alloy and you get examples in silver that are often really quite elaborate, but I think this is the only one we have in gold," he said.
"It would have been an object of high status from a very wealthy family, particularly as it wouldn't really have been seen - so to have one made of gold is really quite something."
'Worked quite well'
The fastening, which weighs 2.3g (0.08oz), would have been used in a similar way to zips and press studs on modern clothing.
"They were often used to hold up women's skirts when crossing a muddy yard," said Mr Marsden.
"They have not been made for a long time so it's an interesting piece in terms of textile history - presumably they worked quite well."
Other items declared treasure at the Norwich inquest included a late Saxon gold finger ring found in Cromer.
Similar to 10th Century examples held in the British Museum, three quarters of the band is formed from plaited wire, beaten into a rectangular-sectioned bar at the back of the hoop.
The inquest also featured a hoard of 1st and 2nd Century copper coins found on farmland near Wighton and an early-medieval silver mount found near Barnham Broom.