Norfolk floods: Surge-hit family move into Bacton house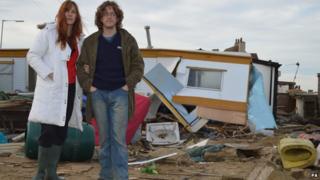 A family who lost everything in the Norfolk tidal surge have moved into a new home, and said the support of the community had been "incredible".
The chalet at Walcott belonging to Helen Robinson and partner Wes Woods was destroyed two weeks ago in the biggest North Sea surge for 60 years.
The couple's business Articus was also wrecked as the sea took thousands of pounds of equipment.
Now they have received the keys to a house in nearby Bacton.
"It's everything we wanted and in the heart of the place we wanted to live," said Ms Robinson. "It is our perfect home."
On the night of 5 December, Ms Robinson and Mr Woods watched as the sea claimed their home.
Sheep killed
"An enormous surge lifted our home up on its crest and crashed it back down, snapping it in two," she said.
They were unable to look at the damage that night because of the high tides and live electricity wires, but returned the next day.
"It was then it became apparent the sea had claimed our outbuildings, ripped the back off our home, sucked out all of our worldly possessions and business equipment, and then spat them over a 10-acre field, killing sheep in its wake."
In those outbuildings were tools and equipment used in their community art circus business.
"With no insurance as we couldn't get any and having no TV and no knowledge of the Environment Agency's early warning system, we somehow slipped through the net," Ms Robinson said.
"When it happened I just felt broken. I was on my knees."
Then the community stepped in, with complete strangers offering help, money, clothes and household items.
Through a friend, they have been able to rent the cottage in Bacton, complete with outbuildings, a workshop and a vegetable garden.
It meant the couple and Ms Robinson's two children Phoebe, 13, and Rufus, nine, were able to move out of their motel in time for Christmas.
Ms Robinson went on: "We have felt the warmth and love and fondness of total strangers. Our faith in humanity is 100% restored."