Bernard the Norfolk turkey returns to roost after fox and dog attack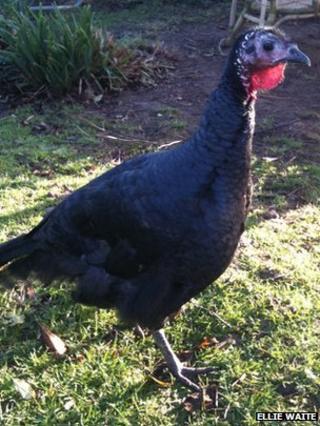 A pet turkey which went missing for 10 days after a suspected fox attack was returned to its Norfolk owners after pleas on a social networking site.
Ellie Waite, from East Ruston, thought Bernard had been eaten "as an early Christmas lunch" after she found his feathers and blood on 1 December.
However, he was eventually tracked down to a village five miles away.
"Poor Bernard had been attacked again, this time by a dog. Surviving twice is a bit of a miracle," Mrs Waite said.
Bernard made a break from the family's garden following the first attack, and set up temporary homes with two different families before eventually being returned to the Waites.
"After people saw my pleas on Facebook, we heard about a woman in the village who'd been looking after a turkey," Mrs Waite said.
"She found the injured bird on her doorstep and looked after Bernard for four days, feeding him in her garage.
"She didn't tell anyone because she was afraid he was destined for someone's oven, and she'd become quite attached to him."
'Quite attached'
However, Bernard made yet another break for freedom, only to end up in the jaws of a dog.
"He was attacked by a pet dog, but the owner managed to get him to spit Bernard out and took him to a friend in Happisburgh who keeps chickens," Mrs Waite said.
Mrs Waite said the rescue family became "quite attached" to Bernard.
"I think looking after him changed their minds about what they'll be having on the table this Christmas," she added.
Bernard, a nine-month-old Norfolk Black is now back at home, recovering from his ordeal with the family's other pets - chickens, dogs and ducks.
"Bless him. I don't think turkey will ever be back on our menu either after Bernard's ordeal," Mrs Waite said.