Government urged to help victims of the tidal surge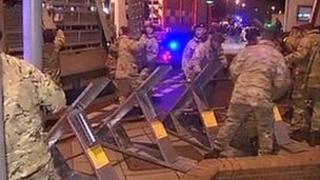 Nearly two weeks after the tidal surge devastated parts of his constituency, Peter Aldous has urged the government to guarantee the clean up costs.
All along the east coast people suffered as the rising sea flooded homes, shops and pubs. Many lost their possessions, others their businesses and few will be able to return for many months.
The Waveney MP told parliament that the region had escaped "by the skin of its teeth" when the storm surge hit.
"In 2007 the wind dropped in the nick of time, whilst two weeks ago we were fortunate in that the wind was blowing in a northerly direction and there was no heavy rainfall, which would have exacerbated the surge in the rivers. It would be foolish to assume we would be lucky again," he said.
Narrowly averted crisis
Mr Aldous said coastal communities remain anxious about the future after the tidal surge of 5 December. It was described as the strongest ever recorded.
He told the House of Commons there was a strong sense in places like Lowestoft that parliament had not properly considered what was a narrowly averted national crisis.
He said: "The challenges of rising sea levels and climate change mean that such events will take place with greater frequency."
Mr Aldous also questioned the government's flood defence policies and strategies.
"There is a concern that they were not devised with coastal flooding in mind," he said.
In a written statement earlier this month Environment Secretary Owen Paterson said the government would be discussing "with every local authority area affected by the flooding what further help they need to ensure places can quickly get back on their feet".
But Mr Aldous called for an update. Defra minister, Dan Rogerson, replied: "It's a testament to their efforts that the impact, while devastating to those directly affected as we've heard, is on a much lesser scale than the comparable coastal flooding event in 1953.
"However, there are always lessons to be learned from our response to an event such as this and I can assure the House that the government will review our approach and improve our planning and preparedness accordingly."
Mr Aldous noted: "This House is about to go into recess and whilst I will be wishing you and all colleagues a happy and restful Christmas, we must not forget that there are many people, not only in Lowestoft but all along the east coast, who will not be so fortunate as ourselves."
A salutary note on which to end the year.