Cromer Pier: Norfolk tidal surge repairs set to cost £100k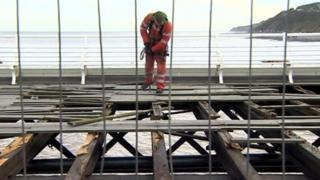 A pier on the Norfolk coast damaged by the biggest tidal surge in 60 years is set to cost about £100,000 to repair.
Decking along sections of Cromer Pier "blew up" with the force of the sea pushing back and up off the town's sea defences against the boardwalk.
An initial assessment by North Norfolk District Council (NNDC) of the damage indicated repair costs would only run into the "tens of thousands".
A council spokesman said it was hoped repairs would be ready by the spring.
Tom FitzPatrick, Conservative leader of NNDC, said: "We'll get what needs to be done, done and worry about who pays afterwards."
The box office and parts of the auditorium for the pier's Pavilion Theatre were also destroyed in the overnight storm on 5 December, leading to the cancellation of about 11 performances.
Peter Battrick, from NNDC, said: "We had some major structural repairs to the pier over the last 12 months that included looking at all the stanchions in the water and metalwork underneath the pier.
"We replaced a lot of the wooden decking during that programme and all the new decking stood up to the storm.
"The damage, which is to more than 20m (66ft) at the landward end, is in the area that we assessed still had some life in it.
"This blew up from underneath from where the waves hit it, but the steel structure, as far as we can see, looks generally sound."
NNDC has installed a temporary walkway across the pier to allow access to the lifeboat shed and theatre. The Christmas Show re-opened on Thursday.