Tidal surge-hit seals see donations flood in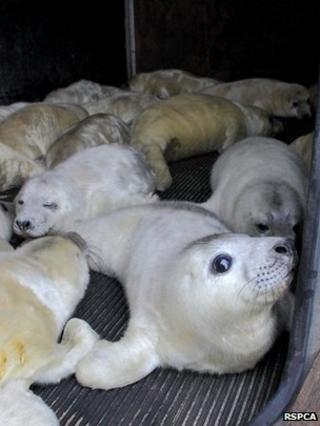 A wildlife centre inundated with more than 100 injured seal pups after a tidal surge caused havoc on the East coast has received more than £25,000 in donations.
The pups were taken to the RSPCA's East Winch centre in Norfolk.
The charity put out an appeal after it said staff were "struggling" to care for them.
It has since been "overwhelmed" by the public's generosity, adding the money will go towards their pups' food.
The surge, which flooded the east coast of England earlier this month, was the largest for 60 years, the Met Office said.
During it a large number of pups were separated from their mothers after they were swept out to sea before they could properly swim.
Others found along the coast have been transferred to RSPCA centres in Cheshire and Somerset.
Alison Charles, East Winch centre manager, said: "We have been absolutely amazed at the generosity of the public, many of who seem to be really moved by the plight of these seal pups.
"The rehabilitation for these poor pups is going to be a marathon, not a sprint, and there are significant costs involved to give them all the special care and attention they need."