James Paget Hospital murder probe: Arrested worker faces no further action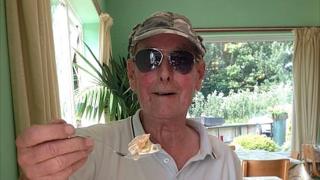 A medical worker arrested as part of an inquiry in to a suspicious death at a Norfolk NHS hospital will face no further action from police.
James May, 76, died of heart failure at the James Paget Hospital, Gorleston on 20 September.
A man who worked at the hospital was arrested in October as part of a medical malpractice investigation.
Norfolk Police said the man, who was in his 40s, would not face prosecution and his bail had been cancelled.
The inquiry followed an allegation from a hospital whistleblower that Mr May died as a result of a deliberate drugs overdose.
The case was referred to the Norfolk and Suffolk Major Investigation Team by the hospital on 30 September.
Local MPs questioned the delay between concerns being raised within the hospital and the police being informed.
'Serious allegation'
Police said two post-mortem examinations confirmed Mr May's cause of death was heart failure, but a series of toxicology tests were inconclusive.
Det Ch Insp Paul Durham said: "This was an extremely serious allegation, the complexities of which necessitated a full and thorough investigation with the assistance of medical experts.
"We will now look to further review and assess all of the information collated in consultation with the Health & Safety Executive (HSE) and Care Quality Commission (CQC), to determine what, if any, further actions may be required."
The hospital said the arrested member of staff did not continue working once the investigation began and he remained "absent from trust".
Christine Allen, chief executive at the James Paget, said: "We welcome the news that no further action will be taken against a member of staff.
"This matter has been thoroughly investigated and the trust has co-operated fully with the police.
"We referred this matter to the HSE and CQC at the beginning of the police investigation and we will continue to work openly with them to conclude this matter."