Felthorpe Airfield plane crash caused by gust of wind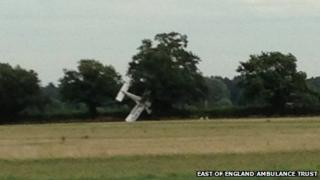 A light aircraft crashed into a tree at a Norfolk airfield after it was caught by a gust of wind, accident investigators found.
The plane crashed at Felthorpe Airfield, near Norwich, on 17 August.
An Air Accidents Investigation Branch report found that a gust of wind lifted a wing as the aircraft came in to land.
The plane was left hanging nose-down from a tree. The 74-year-old pilot was able to escape unhurt through the broken windscreen.