Norfolk floods: Valuables saved from North Sea surge stolen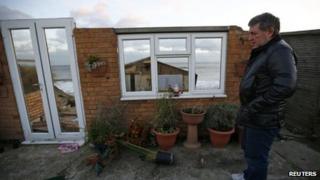 A Norfolk couple who watched their home fall into the sea during last week's tidal surge say some of their last few belongings have now been stolen.
Steve and Jackie Connelly lost many of their possessions when the sand dunes collapsed, sending their house on The Marrams in Hemsby down to the sea.
Some of the valuables the couple had managed to save were stolen from a shed between Thursday night and Sunday.
"We lost enough when the house went down," said Mr Connelly.
Valuables in shed
Thursday night saw the biggest North Sea surge to hit the coast in 60 years.
Three homes were destroyed in Hemsby and four others were "seriously undermined" as waves battered the shore.
Mrs Connelly described the loss of their home as "devastating".
She said they had stored some of their valuables in the shed on The Marrams and noticed on Sunday that the lock had come off.
Norfolk Police said the thieves struck at some point between 22:00 GMT on Thursday and 11:30 GMT on Sunday.
"Items taken include a gold necklace, three watches, a digital camera and a camcorder," a spokesman said.
"There were many members of the public in the area offering assistance over the course of the weekend and officers would like to hear from anyone who may have seen any suspicious activity around the bungalow or adjacent sheds."