Peter Miller murder: Cold case police seek woman caller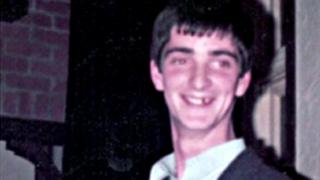 Cold case detectives investigating the murder of a Norfolk man in 1984 are trying to trace a woman who made a telephone call about the case.
Peter Miller, 24, was found dead in the kitchen of the home he shared with his brother Tony in Great Yarmouth.
He died of a single stab wound to the chest but no-one was ever charged with his murder despite 20 calls to police.
Tony Deacon, of the Unsolved Cases Unit, now wants to trace a woman who called police on 30 December 1984.
He said she was a "significant witness" and is now the only source to advance police inquiries.
Mr Miller was killed during the afternoon or early evening of 9 December 1984 but the woman did not call police until three weeks later.
CS gas traces
Mr Deacon said: "She called Great Yarmouth Police station at bout 09:30 GMT and wanted to speak to a police woman.
"She refused to give her name but gave some details to the receptionist and we now want to follow up.
"Investigators have never been able to establish who she was but now we need to trace her to find out what she knows about the murder.
He added: "I believe she still lives in the area and probably in Great Yarmouth. She is a significant witness and we appeal to her to contact us to help solve this murder.
"It is never finished for the family until they get the closure they deserve. It is a hurt to them not to know what happened to their relative."
Mr Deacon also revealed that the last person to see Mr Miller was a neighbour who had asked for his help to repair a leaking cistern.
Also when Tony Miller came home from work, the door of the house was open and his brother's body was lying in the kitchen.
"The air or atmosphere in kitchen indicated that CS gas had been released," Mr Deacon said.