Walpole's Old Masters: Houghton Hall exhibition dismantled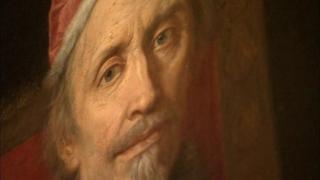 An exhibition at a Norfolk stately home of art masterpieces lost to the UK for 234 years is being dismantled after attracting about 100,000 visitors.
The Old Masters collection was owned by Britain's first Prime Minister Sir Robert Walpole, but was sold to Russia to pay off debts.
It returned to his family home Houghton Hall in May after The Hermitage Museum in St Petersburg agreed a loan.
The Houghton Hall Revisited exhibition ran until the end of November.
More than 70 pieces, including works by Van Dyck and Rembrandt, were hung in their original positions and surrounded by the original furniture, bronzes and marble antiquities.
Now the paintings have been taken down, repacked in their bespoke crates and hoisted through the window in the Stone Hall into waiting trucks.
The paintings will now make the 2,736 km 1,700 mile (2,736km) journey home to Russia in climate-controlled trucks at the end of the week.
The number of visitors was a surprise to people at Houghton Hall, including its current owner the 7th Marquess of Cholmondeley, said organiser Sue Thompson.
"We had 115,000 visitors - a huge increase for Houghton Hall," she said.
"Some 40,000 or 50,000 would have been a good measure of success.
"It'll be a great shame when the last truck leaves."