Benjamin Britten manuscript returns to Gresham's School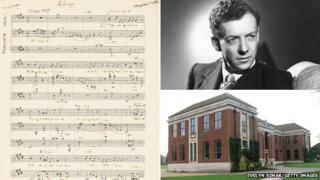 The manuscript of a song composed by Benjamin Britten has been returned to the school at which it was written in 1929.
Britten wrote the music for the piece, titled Lilian, during "a period of extended illness" while a pupil at Gresham's School in Holt, Norfolk.
It was written for piano and a solo singer, with the words taken from poetry by Lord Tennyson.
The manuscript will go on display and the song performed at a school concert.
The piece was purchased at a Sotheby's auction for £5,625 last month.
No public performance
Nathan Waring, the prep school's director of music, said: "In Britten's centenary year, we're delighted to be able to bring this evocative and early piece 'back home'."
Kevin Gosling, communications director at the Britten Pears Foundation, said the piece was never published.
There is no record of Lilian being performed in public but Mr Gosling says he presumes it would have been played to family members.
"Lilian is an early example of setting Tennyson but he set other poets too - he was very well read in poetry," he said.
The Britten Pears Foundation has copies of all of the 1,000 manuscripts Britten wrote between the ages of six and the end of his teenage years, Mr Gosling said.
He added it was "wonderful" that Britten's old school had purchased the manuscript and planned to perform the piece at a later date.