Great Yarmouth winter gardens: Council seeks new repair bid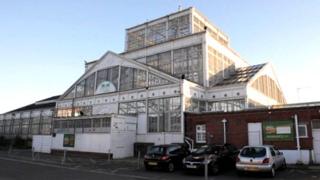 A new multimillion-pound bid is being lined up to help a seaside council pay for repairs to a flagship building.
Great Yarmouth's winter gardens, which opened in 1904, has been shut since 2008 over fears it could collapse.
The borough council has described the fabric of the building as "eroding" and "probably dangerous".
But Bernard Williamson, cabinet member for regeneration, said it was ready to lodge a new bid for funding to create a "mini Eden project".
The Grade II-listed glass and metal structure was originally built for use in Torquay, but was shipped over to Yarmouth after being bought for £1,300.
'No end of problems'
Originally used to house flora and fauna, over the years it has also been a concert venue, skating rink and children's amusement park.
But the seaside winters have taken their toll and it has been redundant for five years over fears a strong wind could topple it. It was also put on English Heritage's "at risk" register.
A more recent inspection found the building in better condition than first feared, but it is still expected to take millions of pounds to restore it.
Darren Barker, principal conservation officer at the council, said: "We've got a building which is eroding, it's deteriorating, it's unstable, probably dangerous. There are no end of problems.
"The repair alone is likely to cost £2m to £2.5m, then the fit-outs probably another million on top of that.
"You see so many other buildings which have to find new uses that are not always appropriate. The joy of this one is that it's going back to its original use."
The authority said it will pursue money from a range of bodies to restore it, such as the Heritage Lottery Fund and English Heritage, but it has yet to disclose the exact amount being bid for.
Cornwall's Eden Project opened in 2001 and houses plants from around the world in giant biomes simulating tropical and Mediterranean climates.
Great Yarmouth's winter gardens feature in Restoring England's Heritage on BBC One in the East on Thursday at 19:30 GMT.